These Boots Were Made For Filling
Lady Jasmine and Maiden in uniform, overalls, and wellie-filling fun
Lady Jasmine
Navy blue below-the-knee severe uniform skirt
Mid blue patterend uniform blouse
Outsize "Tickled Pink" pink wellington boots
Navy blue one-piece swimsuit (under uniform)
Maiden
Navy blue womens-fit boilersuit by ARCO
Pink lace-up high-leg "Tickled Pink" wellington boots
Royal blue one-piece swimsuit (under overalls)
Sometimes, you don't need a reason...
Lady Jasmine likes to make occasional expiditions to the finer emporia to be found in the market towns surrounding her estates, and on one such trip she came upon these delightful bright pink rubber boots by "Tickled Pink". Buying a pair two sizes too large, to allow for gunge-filling, was the immedieate order of business, while a similar pair in a different style were obtained for Maiden. Jasmine teams hers with a severe navy blue uniform skirt and patterned blouse, while Maiden takes the industrial look a stage further with a finely-fitted navy blue boilersuit. Both ladies wear one-piece swimsuits as underwear, a long-standing tradition at Saturation Hall where one of the family mottos is "Stand Ready (for a drenching)".
And so the gunging begins, with Maiden kneeling at her mistress's feet, and pouring box after box of custard into Lady Jasmine's wellies, filling them both right to the brim with overflowing custard running down the outside. The ladies take it in turns to gunge each other, for everything Maiden does to Lady Jasmine, her ladyship returns in kind. Soon Jasmine's lap is coated with yellow mess, and then Maiden has her boilersuit filled, the custard tickling as it flows inside her clothes, gathers at her seat,and then flows down inside her trouser legs when she stands.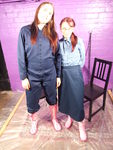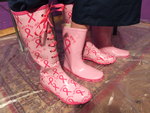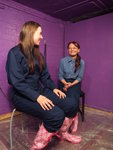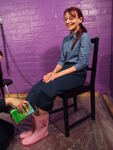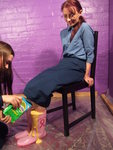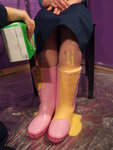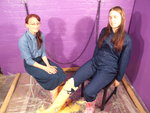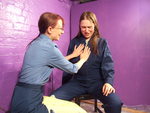 Long and Flowing...
Lady Jasmine and Maiden in uniform, overalls, and wellie-filling fun, Part 2
Lady Jasmine and Maident continue to take turns slowly covering each other in litres of custard. In this section, Jasmine's sill-clean blouse gets the treatment, both outside and then inside, and then it's Maiden's turn, with Lady Jasmine pouring full boxes of custard over Maiden's head and down the outside of her boilersuit.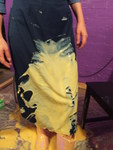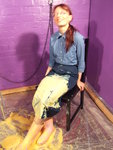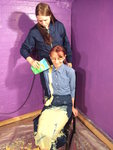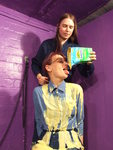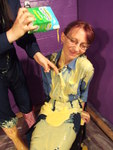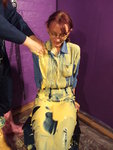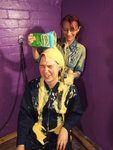 Tops and Bottoms...
Lady Jasmine and Maiden in uniform, overalls, and wellie-filling fun, Part 3
Now it's Lady Jasmine's turn to be gunged again, as Maiden unbuttons the back of her ladyship's skirt and empties an entire box of custard down the inside of Jasmine's skirt, before neatly doing the skirt up again and pouring another box down the outside. Needless to say, Lady Jasmine soon gets her revenge, as the entire back of Maiden's outfit is treated to a thorough coating of yellow goo.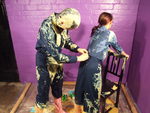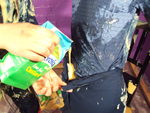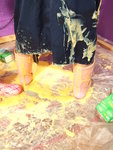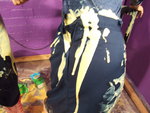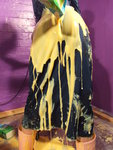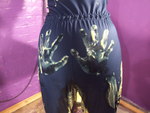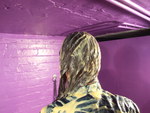 C is for Custard...
Lady Jasmine and Maiden in uniform, overalls, and wellie-filling fun, Part 4
And now for the grand finale! First, Lady Jasmine's hair finally succumbs to the tide of yellow at Maiden's hands, and then Lady Jasmine removes her custard-filled wellies (which she's kept on throughout the shoot), and empties them over Maiden's head and down her front. After that, both ladies hit the floor for some traditional Saturation Hall style gunge hugs and carresses, finishing with a series of nice poses for the camera.