Chastity, the Head Gardener
Water gardening a speciality!
Our England is a garden that is full of stately views,
Of borders, beds and shrubberies and lawns and avenues,
With statues on the terraces and peacocks strutting by;
But the Glory of the Garden lies in more than meets the eye.
-Kipling, (Joseph) Rudyard,
'The Glory of the Garden'.
Newly started at the estate but quickly finding her feet in water-filled wellington boots, the lovely, willowy, Chastity is Lady Jasmine's new Head Gardener. A specialist in water gardening, during the Summer months she's often to be found waist-deep in the streams and ponds in her dungarees, busily restoring and improving the somewhat neglected water features which had been more of less left to their own devices during the tenure of the last Head Gardener.
A graduate of the legendary Wildwood Horticultural College For Ladies, one of the last survivors of the groundbreaking wave of garden training establishments that enabled well educated women to break into the world of professional gardening in the late 19th century, Chastity is actually a distant beneficiary of Lady Jasmine's infamous great grandfather, as it was several large donations he made which enabled the college to open and keep going in the face of a hostile public reception in the 1870s. So in a way, his long-ago investment has come full circle, with Chastity taking up residence at the Hall.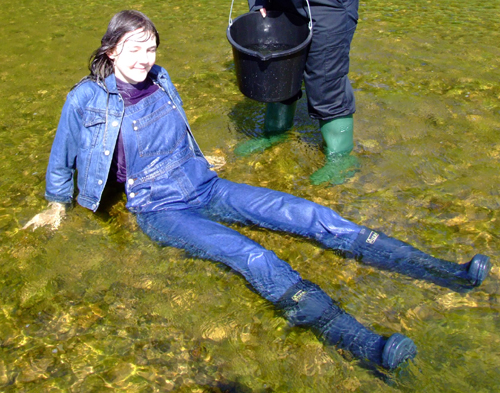 Chastity, in her working gear, getting a feel for the Langstonedale waters
---
Enter the mess!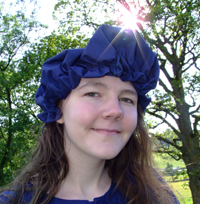 Chastity

Reflecting on the estate